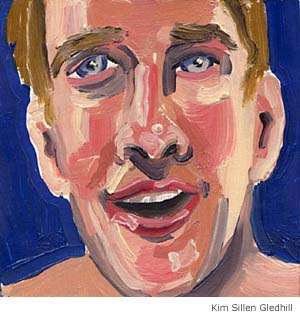 What have Davis Station, Antarctica, BOMA (Bar of Modern Art, Berlin) and Red Rock Brewing Company, Salt lake City, Utah all got in common?ÉÉ. They are all a good place to have a drink. And if you do happen to stop in for a drop at any of these between March and May 2002 you may get a surprise by receiving your choice of poison served on drink coasters made by artists.

In an innovative project a group of 100 artists have got together to not only make the art but organize a world tour of it. The 'Coaster Project, Destination: The World' is an exhibition of art made in the form of a drink coaster. Each of the 100 artists has produced an edition of 100 coasters that will tour the world with exhibitions in 32 countries - from Brazil to Finland.

All good places to have a drink - like the funky radio station, come cocktail bar, come art gallery in Aoyama Tokyo, 'radio:on'. A surprising diversity of materials and artistic styles is on display in this exhibition.

German artist, Sasha Schwartz, uses a humorous photo of himself as a philosopher with a big mustache made from a broom. While New York based, Kim Sillen Gledhill, has painted 100 portraits in oil paint of different individuals as a reaction to events of September 11.

Russian artist, Andrei Vovk, has ingeniously used brightly colored plastic rulers in his coasters, while Tracy Susheski of Canada, has crocheted hers. Caroline Anderson's (United States) coasters are sewn from prints on rag paper created over the past twenty years.

Some coasters are personal works of art. Eric L. Zamuco, from the Philippines has created a tribute to his 100-year-old grandfather. Shan Goshorn, is an Eastern Band Cherokee Indian artist whose work addresses racism and stereotypes of Indian people in commercial products. Her coaster, a double exposure, hand-tinted black and white photograph titled 'Earth Renewal', relates to traditional Indian values connected with the land.

Others address issues that are more global. The well-known US artist Annette Lemieux, highlights consumerism with a series of works on actual drink coasters from her local bar. On these, she has painted word and visual messages.

At the close of the exhibition at each site, the coasters will be given away to patrons purchasing drinks. This generous act encapsulates the exhibition's aim of promoting appreciation of the visual arts. By using ordinary utilitarian objects such as drink coasters, the exhibition also aims to make the arts more accessible and less elitist.

The exhibition, which is supported by The Fuller Museum of Art and other Massachusetts cultural organizations, is part of the cocktail bar 'radio:on' exhibitions program. The coaster exhibition will also include Tokyo organizing artist, Carol Van Zandt, and the coasters of about another 20 artists based in Tokyo. At the closing night party the coasters on display will be given away with drinks.