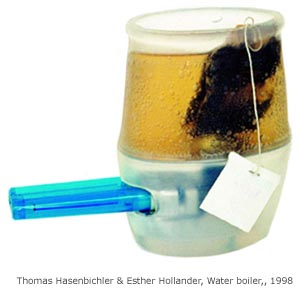 'Why the things you buy are expensive, badly designed, unsafe and usually don't work', is the claim on the back cover of Victor Papanek's best seller of the 1970's, Design for the real World. The book is part of an exhibition of Austrian designers.

Papanek's ideas have had a lasting influence on design in Austria and elsewhere. Papanek's ideas are also at the heart of this exhibition where the curators, both Austrian designers, have taken a very inclusive definition of design. The exhibition includes the 'design' of neutrinos, radio programs, music, fashion, graphics as well as the work of philosopher designers such as Papanek. About thirty exhibits are included in the selection at the Hara Museum, part of an exhibition that has toured the world.

Using a disposable cigarette lighter to heat water to make tea-bag tea may not have been Papanek's ideal use of design to save the planet. However, Thomas Hasenbichler and Esther Hollander's light-up plastic cup is ingenious and very groovy -- just the thing for a ski trip when you need a cuppa.

Also included in the exhibition is the first pair of synthetic skis made by the Kneissl White Star company in 1960. These skis, which replaced wood and steel versions, revolutionized skiing with their lightness, flexibility and shape. They became a legend on the feet of Karl Schranz, Austria's multiple winner of skiing's World Cup. Perhaps the whole of twentieth century design thinking is encapsulated in 'the chair'. It seems it is the object where designers make their signature design mark.

Two standout chairs are included in this exhibition. Emilio Pircher's, Chair, designed last year, is a clear plastic box screwed together on legs. Inside the box, the owner of the chair can place objects of choice. For the exhibition, it was filled with artificial daisies -- very cute, domestic and friendly. In contrast, Walter Pichler's hi tech chair of 1966 is made of auto industry aluminum and decked out in red leather. It is a stunning, classic design.

Prof. Ferdinand Porsche is the grandson of the legendary car designer. Like his grandfather, he also began his design career at the Porsche car plant in Stuttgart. There in 1963, he designed the body shape of the Porsche 911. In the early 1970's he went out on his own and moved his studio to Zell am See in Austria. F. A. Porsche's work features auto industry high-tech materials in a signature range of stylish 'men's' items. On show is an ingenious light, which pivots from a triangular base. Looking more like a space probe, this 1984 design, has become a classic of the company's products.

The ceramic work of Barbara Beranek brings a sparkle of humor to an otherwise rather dry exhibition. Her series of salt and pepper-shakers with a decidedly erotic and cheeky touch are a fun inclusion. Bright in color and highly finished and glossy, they are a quirky mix of sixties retro with a kitsch, touristy touch. This is an exhibiton for anyone who has thought about the shape of the world around them.