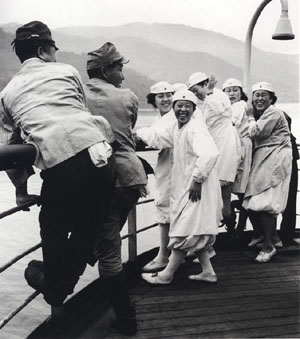 "On June 27, 1949, two thousand Japanese troops, military employees, and civilians who had been interned in Siberia since the end of the war reached Maizuru, Japan, in the rain"…. reads the caption from Miki Jun's photographic series "Japan's 'Red Army' gets back home," 1949.

For Miki Jun this was the first of many series of photo assignments for Life magazine documenting Japanese post-war expereince and such tumultuous events as the Korean War. Miki Jun is one of four Japanese photographers whose work is on display at The Tokyo Museum of Photography in the exhibition 'The Documentary Age: photographs by Natori Younosuke, Kimura Ihee, Domon Ken and Miki Jun'.

Utilizing smaller compact cameras enabling the snap shot style of European photographers such as Henri Cartier-Bresson, these four Japanese photographers pioneered photojournalism in Japan. Like their better known American contemporaries such as Edward Weston and Margaret Bourke-White they used photography to tell stories of ordinary working folk and to expose the social injustice of their times.

The exhibition begins with Natori Younosuke's (1910 – 1962) 'From America' series of 1937. Natori Younosuke is credited as having introduced the documentary style of photography to Japan through his work for the pre-war magazine NIPPON and after the war in the Weekly Sun News, which aimed to be Japan's answer to Life magazine.

Kimura Ihee's photographs are powerful portraits of life in rural Japan in the 1950's. They depict a way of life based around small-scale rice growing. They also show the hardship and poverty of many of these rural areas. His photographs are imbued with a haunting beautiful light and a density of shadow, which make them much more than social documents.

By immersing himself in the details of the lives of ordinary people Domon Ken was able to capture intimate details of those forgotten by mainstream society. His series 'Children of Chikuho' and 'Rumie lost her daddy' follows the lives of orphans in a small coal mining community in the 1940's. It is a poignant tale told through images of loss and neglect. His captions add the cold reality of these people's desperate stories to the gritty beauty of his images. "A father, out of a job, holds his son's hand and watches children play. He leans his work worn body against the wall, burning up with a hunger induced fever."

Whether you are interested in photography of great skill, passion and artistry or simply wish to glimpse an era of Japanese life almost vanished you will be rewarded by a visit to this exhibition.