Apparently in an attempt to curtail men urinating on walls along the streets of Bombay, the city government decided to cover some walls with ceramic tiles onto which images of deities and other famous personages had been transfer-glazed. Out of respect for the images, men are expected to aim their relief some place else.

'Fire Wall' is the first work encountered as you enter the exhibition of Indian artist Atul Dodiya at the Japan Foundation. It includes a (urine free) tiled wall of religious icons and forms an entryway into the rest of the exhibition. 'Fire Wall' encapsulates many of the ideas and icons, sourced from daily life in the streets of Bombay, which is the inspiration of this artist's work.

This exhibition brings together a broad range of his work from the past decade and includes a number of sculptural installations made this year. It is the second in the series Asian Contemporary Artist Solo Exhibitions at the Japan Foundation and is a stunning presentation in their elegant galleries at Akasaka.

Atul Dodiya's art has mined diverse sources including Western and Indian art. In an ironic self-portrait painted in 1994, Atul Dodiya depicted himself as James Bond in the style of an Indian movie poster. Within this painting, reflected in the eyes of his sunglasses, are images of artists David Hockney and Bhupen Khakhar. Atul Dodiya's work often juxtaposes philosophical and personal with pure Pop imagery.

In Dodiya's early paintings he used photographa as the source for his magical and realistic compositions. These works include paintings of strange mystical encounters between Mahatma Gandhi and German artist Joseph Beuys at the René Block Gallery in New York. Art and politics meet often in this exhibiton.

Recently Dodiya has begun to paint on the metal roller blind shutters commonly found on the shop-fronts of Bombay. These shutters are drawn each night for security. The shutters offer Dodiya an opportunity to further the narrative aspect of his earlier paintings. The outer roller metal roller blind is painted in enamel paints while the shutter raised position reveals a canvas underneath.

In the work 'Mahalaxmi', the outer roller cover is gaudily painted with Lakshmi, the Hindu goddess of prosperity and well being, standing in a lotus flower amid an idyllic lake and surrounded by animals. Roll the shutter up and the startling image of three dead young women hanging by their necks is revealed. This sepia toned painting is based on a newspaper photograph of three sisters who hanged themselves to spare their father the shame of being unable to afford their wedding dowry.

The most recent works in the exhibition are sculptural installations of ladders and slippery slides. These works resemble, in both structure and meaning, the children's board game of snakes and ladders. However, in Dodiya's art neither slide nor ladder seems to offer a shortcut to anything other than the certainty of death. Some of these dark installation works refer to the partition of India and Pakistan.

'Highway', is one such dramatic work, which depicts the exodus of people after partition. It incorporates a slide covered in dried yellow flowers and at the base are five human skulls. In these works Dodiya continues to use aspects of Bombay street architecture and media imagery to make a melancholic examination of Indian life and events.

This exhibition brings together many of the ideas and emotions explored by Atul Dodiya over the past decade. It makes clear his status as a leading contemporary artist who transcends artistic boundaries and plays within many cultural traditions. To see the art of Atul Dodiya is to experience a little of the wonderful mixture of cultures, religions, politics, pathos and fun, that are the streets of Bombay.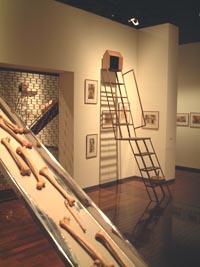 The Japan Foundation Forum
Akasaka Twin tower1F, 2-17-22 Akasaka, Minato-ku Tameike-sanna (Ginza and Namboku Lines)
11:00 – 19:00 Closed Sundays Adults Y400, Children free eguro 2-4-36 Tel: 03. 3714.1201 Open: 10:00 - 18:00 (Closed Mondays) Adults Y500 Children Y200 through December 27