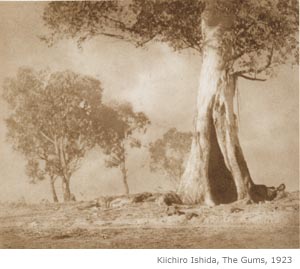 Modernism/Japonism in Photography 1920's-40's

In 1919, Kiichiro Ishida was posted to Sydney, Australia, to work for the Okura-Gumi trading company. It was here that a Japanese photographer friend also living in Sydney introduced him to the art of photography. Within a year, Ishida's photographic work was of such a standard that it was accepted for exhibition at the prestigious London Salon of photography organized by the Royal Photographic Society.

Within two years, he was invited to join the influential Sydney Camera Circle. The aim of this small group was to further photography as an art form and to exhibit their work internationally. An exhibition at the Shoto Museum displays the work of Ishida as well as many of the works of fellow Sydney Camera Circle members. Among these are the noted works of Harold Cazneaux, a seminal figure in the history of Australian photography.

Photography had its roots in a Victorian romantic pictorialism. Exaggerated dramatic poses and gloomy, dark landscapes characterized the dominant style at the turn of the 19th century. The British Royal Photographic Society, asserted a strong stylistic influence. The Sydney Camera Circle members were intent on creating a distinctly Australian style. This was characterized by an emphasis on sunlight, atmosphere, nature and people in everyday scenes of work and leisure. Ishida was quickly influenced by their style and in particular by the work of Harold Cazneaux.

Ishida's photography is noted for his use of the Bromoil print process. This process, developed early in the 19th century consisted of a positive image on treated paper. It was based on the principle that oil and water do not mix. Once an enlargement was made, it was bleached to remove the black silver image. Greasy inks of various colors were then applied to the damp paper using special soft brushes. The raised gelatin areas, damp with moisture, repelled the oil-based inks.

Various tones and textures could be attained by careful brushwork. The process resulted in soft atmospheric and delicate works of which Ishida was a master. He was responsible for the reinvigoration of this process in the Sydney Camera Circle as well as in Japan. Many of the Sydney Camera Circle member's works are on display in this comprehensive exhibition.

Ishida's works differed from his colleagues in the Circle. A spare composition and lack of strong perspective characterize his images. His works such as The Shell Gathers (1922), The Gums (1923), and Mountain Decoration (1923) display a distincly Japanese aeshetetic; a flatness and a composition more akin to Sumi-e (scroll painting) or Ukiyo-e (woodblock prints).

After five years in Sydney Ishida returned to Japan and continued exhibiting his work, as well as, exhibiting the work of the Sydney Camera Circle that he had brought with him. Later, Ishida also spent time in Tianjin and Beijing where he photographed the villages, peasants, and the rural landscape of China. On his return to Japan after the second World War Ishida stopped his photography and devoted himself to running the family business and local politics.

Many Japanese artists traveled to Europe to further their artistic careers and education. Many were part of art movements such as surrealism, but few are noted in the history texts or recognized outside of Japan for their achievements. This exhibition is unique in that it traces the origins of a Japanese artist who initially achieved acclaim overseas and then became an important stylistic influence in Japan.

Kiichiro Ishida's work has been recognized in Australia and Japan. Both countries sat on the edge of the dominant western European artistic tradition. This exhibition is a unique opportunity to trace the career of an influential Japanese photographer and to see the works of an important artistic group who explored a new vision for photography.