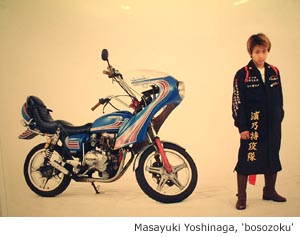 'Wallpaper', a design magazine published in London, epitomises contemporary style Ð it is sleek, glossy, commercial, expensive and popular. An exhibition at the Opera City Art Gallery is like an edition of the magazine made real. The exhibition brings to the art museum the hot energy of street culture. JAM: Tokyo-London, includes the work of 43 young artists. Included are examples of work by architectural groups, musicians, photographers, graphic and fashion designers, performers as well as painters.

The premise of the show is that by gathering together all this raw talent from these two fashionable cities a synergy will develop Ð like a 'JAM' session to borrow the musical equivalent. The reality is more like celebrity karaoke. And like all karaoke, it sounds good on the night but is somewhat discordant when a recording is heard the morning after.

First edition of the exhibition appeared at the Barbican Art Gallery in London from May to July 2001. The Tokyo version is larger with more works. The Tokyo installation was designed by Deluxe (Klein Dytham Architects, Namaiki, Nakameguro Yakkyoku, Tokyo Brewing Company) and captures the essence of Tokyo as a city -- awesome walls of shopping bags separating spaces.

Highlighting the exhibition are the photographic works of the Japanese artists. Among them Masayuki Yoshinaga photographs of the 'bosozoku' (biker gangs). Yoshinaga has become well known for his series of images documenting various 'outsider' groups in Japan, such as the young 'kogyaru' girls of Shibuya and members of the yakuza. His works provide fascinating glimpse of an insider's view of these gangs. The 'bosozoku' images include group shots from the streets and also large studio images of single members and their bikes. They portray these young men with dignity and openness.

Continuing the motoring theme is Masafumi Sanai's series "Ore no Kuruma (My Car)". This consists of 300 photographs recording a trip between Shinjuku and Karuizawa in Sanai's beloved yellow Skyline. Woven around these commonplace images is his prosaic prose about the journey and his life. Its an insightful yet simple work.



Editor and photographer, Kyoichi Tsuzuki, has through his previous publications given many of us a view into aspects of Japan less often seen. Tsuzuki offers through his books "Tokyo Style" a peek into people's apartments and "Roadside Japan" a look at some curious sites. Continuing the peep show theme for this exhibition, he exhibits photos of interiors of love hotels. The images show a reality wilder than the imagination.

Well-known city photographer, Takashi Homma, exhibits "Tokyo New Standard". This is 160 photographic slides of Tokyo children. A neutral starkness to the images avoids drowning them in an obvious cuteness.

A few years ago at the age of 20, Yurie Nagashima achieved considerable attention for her series of photographs of her family naked around their house. A frankness and confidence in the images make them a compelling documents. This exhibition includes these and some recent equally forthright self-portraits of her pregnant.

All the 'hot' artsy people are in this show. The "A" list includes artist Yoshitomo Nara, author Banana Yoshimoto, camouflage pattern fashion designer NIGO / A Bathing Ape, "Chappie" the virtual 'tarento' creation of Groovisions, and 'Gorgerous' (Hiroyuki Matsukage and Muneteru Ujino) the musical performance duo noted for their phallic instruments.

The publicity information about the show describes the exhibition as 'like walking through a magazine'. Those in Tokyo can catch this fun and fashionable edition in the museum until May 6 but are fortunate to see the ongoing venture daily on the streets.