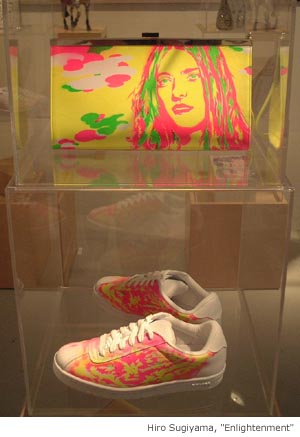 Shoes and handbags are not accessories in Tokyo - they are the essentials. It is therefore appropriate that an exhibition featuring these fashion items, which is to tour the world would make its debut here. An exhibition of twenty pairs of shoes and bags by artists, illustrators and designers from around the world is on display in trendy Daikanyama.

However, these are not your usual designer bags. The exhibition involves a seemingly odd mix of skateboarding sneakers and dress handbags. The artists, mainly from skateboarding and street-wear design backgrounds, have added their personal touches to white blanks of these products. The results are an interesting mix of fun and fashion. They are supported by a display of the original drawings, prints and photos on which they were based.

The exhibition's title, 'this is ME', expresses not only the autobiographical nature of the artwork but also the status of fashion items such as shoes and handbags in defining our personalities. Some stand out shoes 'n bags were by French artists\designer, Marke Newton, who was also co-organizer of the exhibition. His work borrows from a tradition of 17 th century drawing and woodblock printing. Drawn in marker pen, a mounted knight in immaculate detail, takes on a pop image on the sides of the skater shoes.

The exhibition includes twenty artists, including French fashion designer, Jean Charles De Castelbajac, U.S. cartoon illustrator and skateboard designer, Andy Howell and Mambo, a design label synonymous with the skate and surf scene.

Another big name in skateboarding is Eli Morgan Gesner from Zoo York Skateboards in New York. His work a photo image of the city which is reworked in marker pen, adds a serious note to this otherwise light exhibition. Gesner's piece recalls the tragic events in NY from last year.

Four Japanese artists and illustrators are in the show. They include Graphic-Designer Hiro Sugiyama. His work titled Enlightenment is an elegant piece of color and portraiture. Two photographer\designers Keiji Ito and Akira Somekawa also make designs, which vary, from the usual raucous board scene style.

Similarly Russian jewelry designer and only woman artist included in the exhibition, Irina Volkonski, brings a touch of sparkle to the usual grittiness of street wear.

The Japanese illustrator, Imaitoonz , worked with UK illustrators James Jarvis and Simon True to create graffiti-like cartooning all over the gallery's windows and set the style of the show. Simon True was also responsible for the delightful animation that is showing in the exhibition.

The exhibition begins its world tour in Tokyo and later travels to Los Angeles, New York, London, and Paris. It is a fun exhibition and an opportunity to sneak a look into the fashion and style of the cultish world of skateboarding.