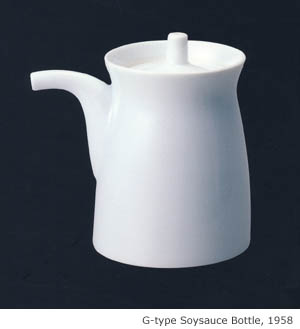 Form, function and affordable, best describe the ceramics of Masahiro Mori. His designs of tableware combined modern shape with innovative mass production methods. Elegant, yet easily affordable products have made Masahiro Mori a seminal figure in 20th century design. An exhibition at the National Museum of Modern Art, Tokyo, showcases over eighty examples of his work from a career spanning almost 50 years.

Masahiro Mori was born in Shiota-cho in Saga Prefecture in 1927. He completed design studies at the Arita Institute of Technology in 1945 and then spent a year working with a ceramic artist, Haizan Mastumoto. Mori then furthered his technical and design studies at Tama Art University.

In 1956, he began work as a product designer for Hakusan Toki Co., a tiny pottery in Hasami, Nagasaki. It was here that he put to use much of the previous study he had made on materials and ceramic production methods. At Hakusan Toki he developed one of his most successful products the "G type" Soysauce Bottle. This easy to use little bottle, which miraculously doesn't drip, won the first two inaugural Japanese design awards in 1958 and 1961. Over his design career, Mori has been awarded 111 "G-marks" Ð the top design award by the Japan Industrial Design Organization.

Another feature of Mori's tableware is the ability for some of his designs to interlock. His sets of 'Party Bowls' can be reassembled in a variety of geometric shapes to fit various foods and table arrangements. He has also designed sets of condiment containers -- salt, pepper and sauce Ð that fit together to form a solid group.

Mori's design work has focussed on products that fit the Japanese lifestyle. Tableware such as, rice bowls, tea and coffee cups have featured in his ceramic designs. His designs have adapted them to suit changing needs.

In the 1990's, Mori designed a rice bowl that he thought was easier to eat from. It is shallower and wider than traditional rice bowls. Mori surmised that with modern better heated homes the need of a deep round bowl to protect warm rice from the cold was no longer as important. Over the past decade, Mori has produced a variety of hand painted designs for this broad bowl and many of these are on display in the exhibition.

Mori has long been at the center of debates in Japan about the nature of design, craft and art. He has consistently maintained that good design should not only function well but should be accessible. This often meant being mass-produced and therefore affordable. The shallow rice bowls, however, seem to prove that craft and mass production need not be exclusive. The innovative patterns and application methods adopted by Mori for these bowls, although applied by hand, are such that they are still easily and inexpensively produced.

This is one of the few exhibitions, where you can admire the work in the art gallery and then buy yourself the exact same things at the gallery shop. A good selection from the exhibition is on sale and true to Mori's philosophy Ð affordable. For the past 50 years Masahiro Mori, has created products that work efficiently, look elegant and are within reach of most people. A rare and impressive achievement for any designer and an exhibition worth seeing.