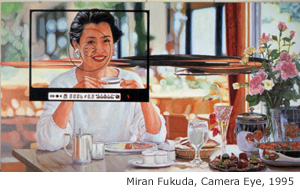 Seeing is a very mechanical thing. Our eyes aren't much more than holes in the head to receive light. The brain is the amazing organ that turns this information into something to make sense of the world. Humans have developed a surprising variety of machines and devices that manipulate our perception. Many of these are on display in 'ReImagination', a fascinating and comprehensive exhibition at the Tokyo Metropolitan Museum of Photography, which examines aspects of perception.

The exhibition is organized around five themes Ð Illusion/Vision, Animated Images, Cubic Perception, Scale of Vision, and Documentation. The exhibits range from Indonesian shadow puppets and 17th Century Latin texts on perception, to cinema and virtual reality. It includes instruments for understanding perspective, animation machines, optical distortion games, digital art and video work. The breadth of the exhibition is breathtaking, causing the 5 exhibitions themes to fade out of focus as you touch, twirl, and trigger the many interactive displays.

A feature of the exhibition is the mixing of contemporary art among historical pieces. This leads to some interesting juxtapositions such as Japanese magic lantern slides made in 1868-78 by Tozan Yamamoto next to the amazing light boxes 'Digital Technamations' (1993) by Tadanori Yokoo. These are similar works; however, Tadanori uses electric motors to rotate light filters to make waterfalls appear to gush and flow through his baroque scenes.

Toshio Iwai's, 'Floating Music', (2001) incorporates digital animation to create a fantasy of colored dots, which gracefully twirl off the screen. Dots are created where the screen is touched. The viewer almost 'paints' these 3D floating forms across the screen.

Another outstanding interactive work in the exhibition is 'Tool's Life' (2001) by a duo called Minim++ (Motoshi Chikamori and Kyoko Kuno). In this piece about 15 or so 'tools': hammers, pliers and spanner but also cigarette lighter, saucer and harmonica, stand upright on a tabletop. The tools are spotlit from above, giving them clear dark shadows. If one of the tools is touched, sensors activate a video 'shadow' animation.

When the harmonica is a touched notes float from its shadow and from a garden pot, a shadow plant magically grows before your eyes. Touch the saucer and a little lizard scurries from underneath across the tabletop.

In a dizzying display of interactive video, Kazuhiko Hachiya takes the viewer on a spin on the wheel of fortune. Blowing on a propeller controller causes your video image, projected above and to the side, to rotate around you. It is an ingenious use of mini video cameras and optical fibers.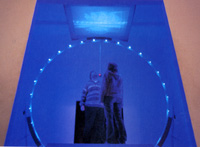 Other artists use more traditional means in unusual ways to examine human perception. Miran Fukuda's painting 'Camera Eye' depicts a woman enjoying breakfast viewed through the lens of the camera. It contains a second hidden image. When the work is viewed from the side -- close to the wall-- the distorted (anamorphic) image of the man taking the photograph comes into perspective. Looking at a single image from two different viewpoints allows both sides of the photographic moment to be seen.

There is a flea market full of good stuff in this exhibition, about 130 works in total. However, the exhibition's presentation of such a huge variety of machines, devices and artworks about perception offers few insights as to why humans continue create new means and interpretations of the world.