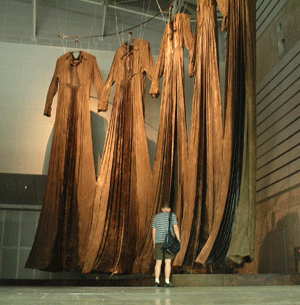 The big wave rolled into Yokohama on the weekend. Not the feared Tsunami but a wave of art, artists and creativity has flooded the seaport area. Works of art by more than 100 artists from around the world are exhibited in two main venues in the Minato Mirai port district in Yokohama. This is Japans largest exhibition of contemporary art and it is the first in a regular three-year cycle.

Most known forms of art are included in the exhibition -- except perhaps oil painting. Following a worldwide trend in contemporary art, video and the new media arts dominate this exhibition. However, they are presented in such variety that they are also the surprises and exhibition highlights. Video has been used to document events, display hand drawn animations, record scientific observations, manipulate appropriated television images and present computer generated imagery.

A video highlight would include the strangely graceful but at the same time ridiculous attempts of people to ride rickshaws underwater. This was part of an enigmatic video by Vietnamese artist Jun Nguyen-Hatsushia and includes a symphonic sequence of underwater shots recording an installation of mosquito nets attached to corral and rock outcrops. Also dealing with the sea is Allan Sekula, a U.S. artist who has pioneered an artform including new media such as video and photography to record and document aspects of culture and history. His work in the exhibition is a research project oscillating between Tsukiji fish market and the US naval base in Yokohama. It includes video and photography as well as historic documents and other research.

Fiona Tan who lives and works in the Netherlands is another who explores tensions between cultures in her piece titled Saint Sebastian. Video projections, on two sides of a screen hanging in the room, shows the concentration on faces of young Japanese women doing Kyudo, traditional archery. The camera studies their Kimono and faces in state between calm and tension as they shoot. Although we hear the arrows let fly we neither see no hear their target. The title, in reference to the Christian saint martyred by being shot with arrows adds an extra tension.

The absurdest performances by Orimoto Tatsumi known as The Breadman, are photographed and presented as video documents. In these performances Orimoto, wearing a bakers shop dozen French sticks tied to his head, delights and perplexes passerbyes as his Dadaist artform interrupts the bustle of modern life. His more recent work involving his Alzheimer suffering mother uses tiny LCD screens to display videos capturing aspects of their life and his art.

In other very different use of video as art, the rear of a tiny medicine chest is used to screen the expressive animations of the South African, Artist William Kentridge. Life is seen under a powerful microscope and projected via video to a large screen and onto the Internet in Brazilian Eduardo Kacs scientific yet poetic installation about genetics. While in Korean artist, Sowon Kwons piece, television images of Olympic gymnasts are manipulated by sketchy graphics, to highlight movement and space in the imagery.

Born in Poland but now living and working in the U.S., Krzysztof Wodiczko has made art focussed on social issues. 'The Tijuana Projection is a video record of an outdoor art event where the extreme close-up of a young woman is projected onto the side of a building. Chinese artist Xing Danwen uses two video projects of landscapes in his piece 'Sleep Walking. One video is back projected onto the bottom of a glass chest Ð the locks and edges of which are brass antique styled fittings.

Also dealing with romantic notions of landscape and in a nod to the seductive qualities of film over projected video, Tacita Dean exhibits a loop of 16mm film. We join the gentle clutter of a Berlin restaurant interior high in the TV tower as it revolves allowing panoramic vistas of a blazing setting skyline.

Australian artist STELARC explores the limits beyond the human body offered by robotics. His large six-legged pneumatic robot is on display together with a dramatic video of him at its controls during a performance. Also in a scientific mode, Mats Bigert and Lars Bergstrom, Swedish artists, project their video relating to climate change on a dome shaped screen.

Visitors step into a futuristic world of 3D images in Fujihata Masakis computer generated work. Wearing special 3D glasses makes the photographic projection surround the viewer who is then entwined in a maze of graphic lines. In a dramatic demonstration of his suicide kit Japanese artist Aida Makoto steps off a stool with the strappy apparatus attached around his neck. Viewers can endlessly watch this moment captured on video as they examine the actual suicide belt -- equipped with cell phone, last glass of sake, and a snack, in chilling reality.

Many of the works in the Triennale incorporate video into complex installations, however, Joelle Cionas work allows visitors to man the video camera to spy on her building a web-like art installation hidden behind the wall. By use of closed circuit video visitors can witness the progress of this installation or by voyeuristically peering through spy holes strategically placed in the wall. This survivor art seems particularly poignant in this era of reality TV.

This is just a sampling of a few of the many works, which use moving images to paint a new vision of artistic exploration. There are also some weighty contributions to contemporary art, which do not use video. Yoko Onos war torn bullet-riddled freight train, on display in front of the Red Brick Warehouse space is a forceful example. Emanating from the train is a blinding white light and the cries of forgotten souls. In this case reminding me of the works neglected in this review of the tangible artists, the creators of sculpture and installations, who also cry out for recognition.