At his mini retrospective Shizuo Miyazaki exhibits the landscapes of war. His war was in Manchuria where he fought as a boy soldier. Miyazaki, now in his eighties, was captured and spent years in Russian concentration camps in forced labor. His oil paintings display a dazzling technical brilliance with the best evoking a stillness where every blade of grass is revealed in immaculate detail.
His landscape depicts a vast field -- almost empty apart from the odd post and barbed wire which tell us of its history as a battlefield. In the sky above the golden landscape, is a painted reproduction of an old sepia-toned photograph. In it the artist aged 16 together with his boy soldier mates are captured (on film) -- all formally lined up, a proud, serious group in army uniform. Floating in the skies, in wisps of cloudy vapor, one gradually perceives the skulls of lost souls.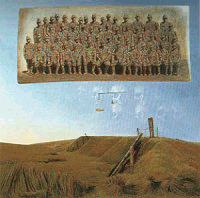 Miyazaki's paintings also contain the symbols of his war. These grim souvenirs of his youth, which have been painted over and over again during his long career as an artist, include his hobnailed boots, opulent red flowers and black crows hanging dead on a rope. Miyazaki shows us, through sublime application of paint -- creating an eerie stillness of the land -- and through meticulous study of detail in the everyday, a life torn apart by war.