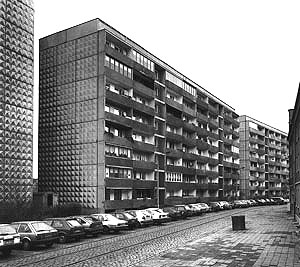 A clinical scientific scrutiny pervades the photography of Thomas Struth. They are compelling works of detached clarity. His camera records an excess of detail and the flat white light which bleeds through his scenes is all revealing. His portrait subjects are coldly studied and the presentation of his photographs, laminated to plexiglas, seduces us into peering closely at the image while at the same time keeping the image distant and hermetically sealed.
Thomas Struth is one of the group of photographers who emerged from the Kunstakademie Dusseldorf in the late 70s and early 80s. They were taught by the well-known photographers Bernd and Hilla Becher who were noted for their obsessive examination of everyday buildings and their immaculate techniques. In the scientific neutral zone of Struth's photographs we are safe to stare at families and look for hereditary likenesses. And we are free scrutinize the walls and guards of museums while ignoring the works of art. Within the pseudo-science of Struth's photographs of public housing blocks we are at liberty to study the buildings themselves, discovering patterns and rhythms of geometry, rather than consider the lives of those that might live inside. In works such as "Ferdinand-Von-Schill Strasse, Dessau (1991)" and "Shinjuku, Tokyo (1986)" Struth's careful composition allows the cacophony of city architecture to unite in a symphony of line and form.
This exhibition contains work from each of the main themes Struth has pursued in his art; architecture, portraits, cultural icons and his latest---nature. The cultural icon theme includes a series of photographs within art museums. In these monumental works, he photographs some of the great works of western art.
Each photograph includes the people and area surrounding a famous painting such as Eugene Delacroix's "Liberty Leading the People" and captures its celebrity status in the museum. Struth laments the loss of meaning that these famous paintings have experienced and how they have become only cultural icons of must-see tourist destinations.
"Paradise 14 Yakushima, Japan" is a panoramic view of mountains. The mysterious light in the landscape more reminiscent of Struth's German predecessors in the Romantic movement. These 19th century artists were concerned in capturing the vastness of nature to exemplify God's greatness. Looking at Struth's immense photograph we stare in awe---not at the vastness of nature, but in wonder that such a scene, free of power lines and roads, still exists in this developed world. "Paradise 14" is a photograph of the same area but taken under the forest canopy. It depicts another of the 19th century Romantics' great landscape subjects, a primal garden of Eden---God's incubator for life and nature.
However, what comes to mind standing in front of Struth's monumental image, is an end rather than a beginning. Anyone born in the latter half of the twentieth century knows that these are endangered pockets of paradise, refuges from destruction, and behind one of those prehistoric-looking tree roots in Struth's photograph is a plastic drink bottle with a fading label. The ideas and meaning embodied in Struth's work has enabled it to cross a hazy divide that separates much photography from fine art. This exhibition provides an excellent overview of the work of a significant contemporary artist.